For a different design project, I needed a Sim or two to just wander around for a bit, checking that the pathing between various features was workable (as it is often possible to place things in the build/buy tool such that they look fine, but Sims cannot use them). I could have used the Azana and Karana Sims I made for the Azana's-apartment project, but instead I decided to put together a theoretical prototype of Annabelle Tenjou as a young adult...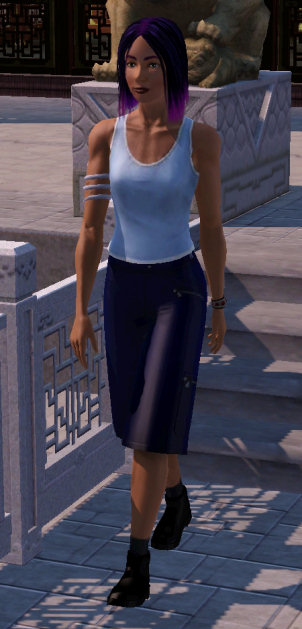 ... and only once she was live in the game and I saw her in action did I realize that she's basically Mako Mori if Mako was from the Water Tribe instead of Japan. And more cheerful. And a witch. :)
--G.
Disclaimer: Annabelle may not actually grow up to own a flying broom.
-><-
Benjamin D. Hutchins, Co-Founder, Editor-in-Chief, & Forum Mod
Eyrie Productions, Unlimited http://www.eyrie-productions.com/
zgryphon at that email service Google has
Ceterum censeo Carthaginem esse delendam.