LAST EDITED ON Sep-30-20 AT 02:15 AM (EDT)

In the thread about Gallian Gothic Book 2 Act II, there was a brief digression about cooking pizza in a cast-iron frying pan. Here is some more information about that, featuring some photos of a pizza I prepared earlier.

The way I do pizza is pretty basic and low-rent. I make no pretentions to gourmet skill here. I think it's pretty darn good, but I have the palate of a man who grew up in the whitest part of the whitest state in the Union with parents whose idea of daring exotica is the kind of Chinese food you can get in such a place, so take that for what it's worth. Anyway, disclaimers out of the way, here's my take.

For this particular one we're talking about today, I used a frozen pizza dough that was available the last time I made a supply run to the nearest supermarket that does curbside pick-up. I think the brand was "Pepe's" or some such generic Italian-ness. In practice, it doesn't really seem to matter as long as it's a reasonably conventional pizza dough. I get similar results with the Chef Boyardee bags-of-flour-in-a-box mix, or a scratchmade dough made to the following dirt-simple recipe:

DIGRESSION SIDEBAR: Q&D PIZZA DOUGH RECIPE

Combine:
- 2½ cups all-purpose or bread flour
- 1 cup hot water mixed with a packet of active dry yeast (or the equivalent dosage of same out of the jar, which I believe is 2½ teaspoons)
- 1 tablespoon olive oil

Mix with the dough hook on your KitchenAid for 10 minutes. What do you mean you don't have a dough hook for your KitchenAid? Once that's done, throw in a little more olive oil and roll the dough ball around in the mixer bowl to coat it, then cover the bowl with a tea towel, put the bowl in your cast iron pan, and set the pan with the bowl in it on top of your oven while you preheat said oven to 425° F. If your oven has a top vent like mine, that will warm the dough while the oven heats up and make it rise a little faster! Efficiency! Let it rise while the oven heats up and go set up your mise en place* for assembling the pizza.

For my particular old cast-iron pan, which I believe is a 15-incher, half of most commercial dough balls (or half of the yield from the recipe above) is the right amount to make a pizza that goes to the edges. Stretch it as much as you like with whatever technique you can manage, spray the pan with some cooking spray or rub some oil in it (don't forget the sides), flop the dough disk in there, and then use your fingers to kinda concrete-float it to the edges.

My topping choices are equally low-rent: shredded low-moisture mozzarella, that sliced pepperoni that comes in the plastic pillow pack, and pizza sauce out of a can. Chef Boyardee, Don Pepino, whatever floats your boat. (I once punted and used spaghetti sauce instead and it was terrible. Spaghetti sauce is too wet to use on a pizza.) I'll also throw on some shredded cheddar and/or bacon if I have them, but I was out of both today. Sometimes I also put on a bunch of dried oregano. I don't really like oregano that much? But my late grandmother always used tons of it on pizza, so it makes me nostalgic. I don't expect that to make sense to anyone but me, but anyway.

Once it's all in the pan, it looks like this.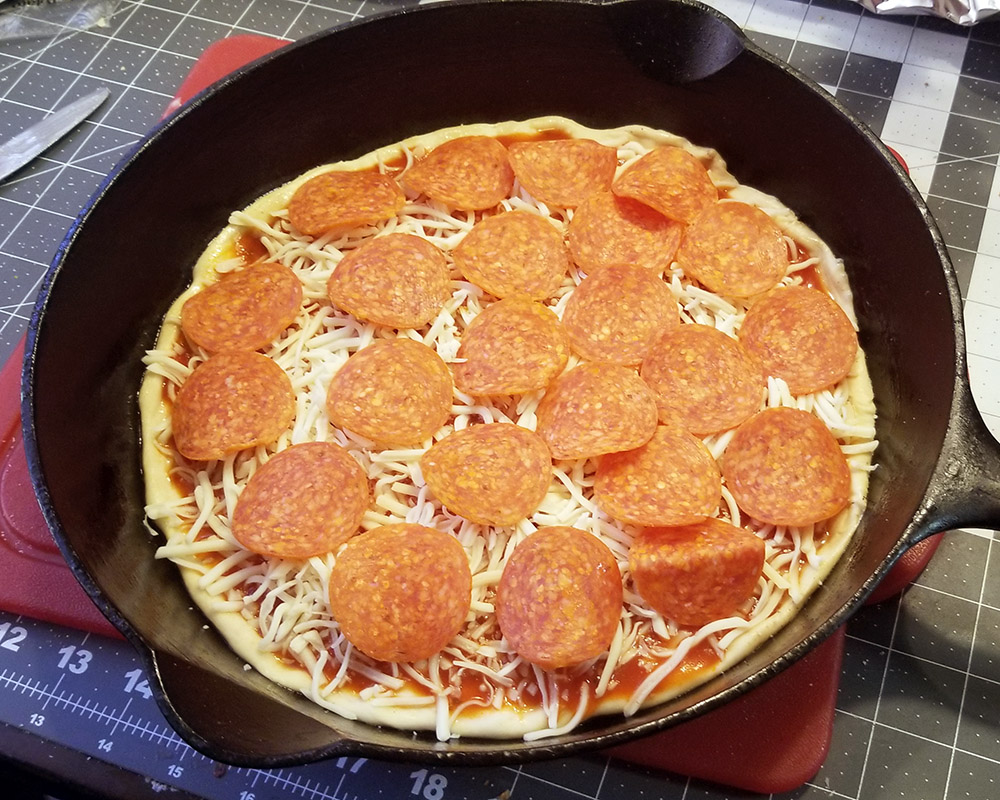 Note that you could easily do a deep-dish pizza in this pan, I just haven't here. Also, you can take the cheese all the way to the edge with a little prep (got to make sure the sides are well-oiled or it'll stick like hell when you try to take it out afterward), but I like a little bit of a thumb rest.
Bake at 425° F for 22 minutes. For convection ovens, I dunno. My current oven does have a convection mode, but I developed this method before I bought that oven, and I've never gotten around to figuring out the time differential for cooking this in that mode. Maybe 15 minutes?
When you take the pizza out of the oven, let it sit in the pan until the cheese stops bubbling, then go around it with a spatula to get the lovely maillarded cheese bits free from the pan sides (if you oiled it right they should come right off) before you decant it onto a cutting board. When it's done, it should look something like this.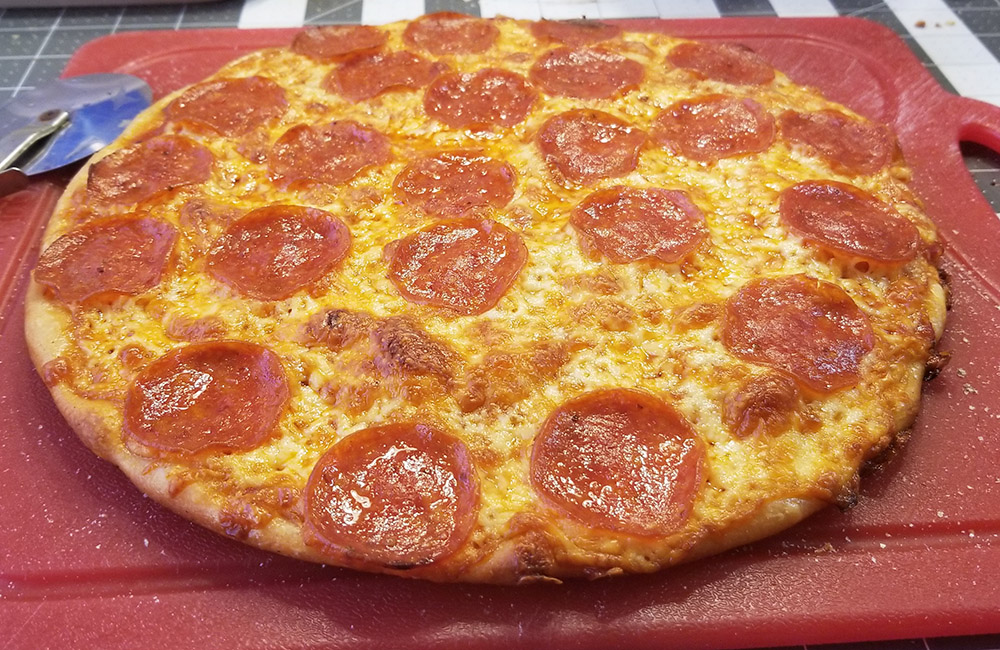 Here's a view with a slice cut out so you can see how thick it is.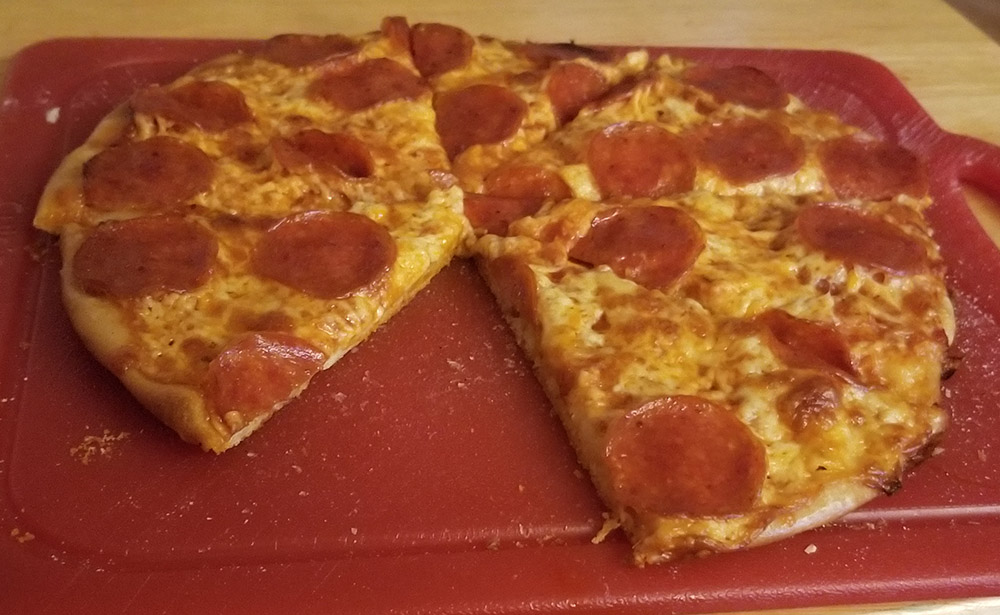 Note that this was a second-pass crust—that is, the second half of a dough ball, which had been in a ziploc bag in the fridge for a couple of days after the first half of it got used. They tend to be a little flatter than the first-pass ones, in my experience.
And here's a view of what it looks like underneath.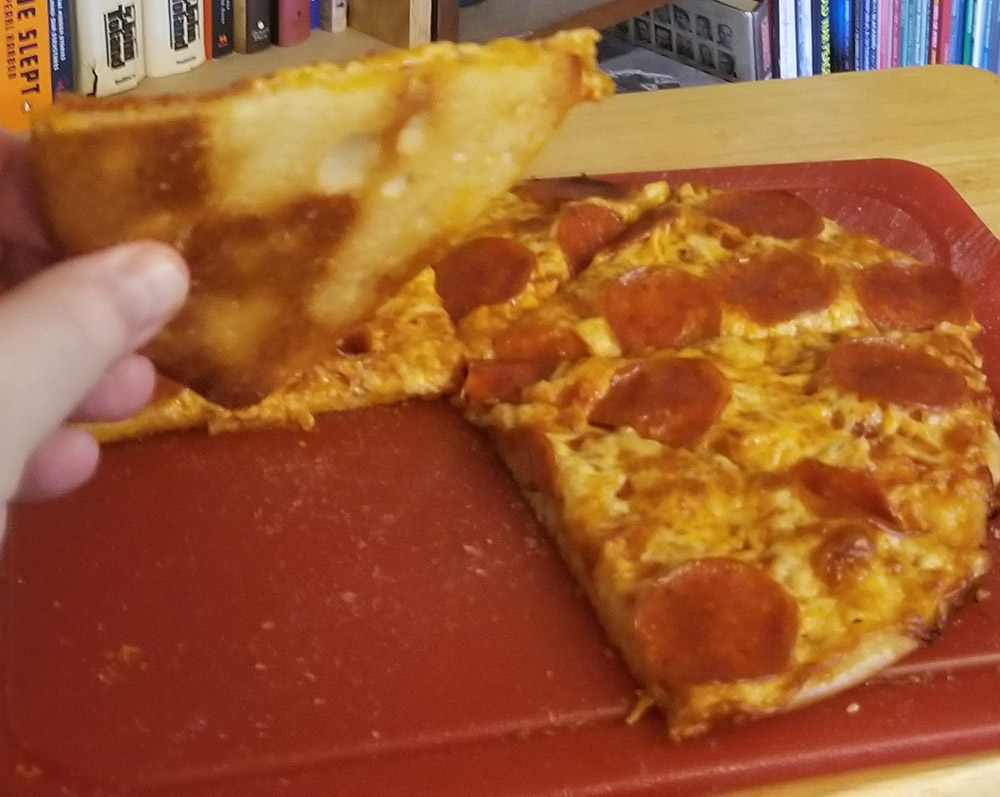 Crunchy at the edges, chewy in the middle. Does not flop over when picked up and dump hot cheese onto your hand.
Cleanup: Once the pan is cool, grab a paper towel and scoop out the pepperoni grease, then grab another one and give the whole thing a polish pass. You're done!
Bon appétit!
--G.
* by which I basically mean "get the stuff out of the fridge"
-><-
Benjamin D. Hutchins, Co-Founder, Editor-in-Chief, & Forum Mod
Eyrie Productions, Unlimited http://www.eyrie-productions.com/
zgryphon at that email service Google has
Ceterum censeo Carthaginem esse delendam.