As promised, here are some capsule bios and reference images for some of the characters you'll meet in Bubblegum Crisis: The Iron Age.

Ben Stark
(no picture)

Benjamin H. Stark is a freelance reporter who operates his own independent news feedsite, StarkWire, on the InfoWeb. He's known for his uncompromising stance on corporate responsibility, especially as it applies to GENOM's constant denial of any culpability in rogue-boomer incidents, and is one of the foremost mainstream-media champions of the existence of the Knight Sabers. He supports his penchant for globetrotting journalism through his ownership of a successful American technology and cybernetics company, Stark Industries.

Dr. MegaZone
(no picture)

MegaZone, no other name, is a biomedical and cybernetics researcher for Stark Industries. He has doctorates in medicine and cybernetics; with those skills, he develops cyberware and the equipment and medical procedures used to install and maintain it. His inventions range from medical replacements like the StarkMed Model 74 bionic heart to modifications primarily employed by military and police forces, such as nano-infiltrative bone and skin reinforcement technologies. An old friend of Ben Stark's from college days, he is often found in his boss's company, leading many to speculate that the large, imposing cybersurgeon - who is known for testing his inventions himself - is also Stark's bodyguard.

Sylia Stingray

Sylia is the daughter of the late Dr. Katsuhito Stingray, inventor of the first-generation BUMA technology which made possible, several years after his death, the Boomer Revolution. Publicly, she lives on the income from her father's patents but shares none of his technological genius, instead supplementing her inheritance by designing clothing and operating her own ladies' wear shop. Stylish and sophisticated, Sylia is a well-regarded designer, but no one who knows her from that world would imagine that she's the chief engineer, organizer, and driving force behind the Knight Sabers.
Priss S. Asagiri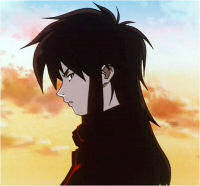 A rough-and-ready rock-n-roll girl, Priss is the lead singer of the retro rock band Priss & the Replicants. She writes most of the band's songs and is also a guitarist, though she rarely plays on stage. She's a former member of an outlaw motorcycle gang and still has connections in that world (as well as an unabated passion for fast bikes). Though she's rough-edged and abrasive, Priss is very loyal to the few friends she has, and she does possess a sense of humor - it's just dark and sardonic. She's arguably the deadliest of the Knight Sabers; her hardsuit is optimized for firepower and durability, and she never hesitates to take the fight to the enemy. Some of her friends suspect she may harbor a suppressed death wish.
Linna Yamazaki

Linna is the Knight Sabers' close-quarter-battle specialist. A former dancer and trained martial artist, she has the most advanced formal combat skills of the group (even if she can't quite match Priss's sheer ferocity). She's also the most grounded of the group, more in touch with reality than bike-and-rock-obsessed Priss, computer-obsessed Nene, or just-plain-obsessed Sylia. She works as a fitness instructor because the work is easy for her and the hours are flexible, but she's also interested in subjects as diverse as finance, the fine arts, and travel. Linna's hardsuit is optimized for melee combat, with a full set of concussion arrays and a pair of flexible vibrocutters ("razor ribbons", as they're known in the trade).
Nene Romanova

The youngest Knight Saber, Nene is also the only one with a real day job - she's a dispatcher for the Advanced Police, the paramilitary city agency tasked with responding to boomer incidents and other situations in which the public is endangered by forces beyond the regular police's ability to confront. The consummate hacker, Nene can do almost anything with a computer - including falsify her own birth records to obscure her actual age. Her main function with the Knight Sabers is information support; in the field, she's an unimpressive combatant, lacking either real fighting ability or the equipment to allow her to user her native ingenuity to make up for it. She's a happy-go-lucky girl who believes that things will usually work out for the best, but the fact that the other Knight Sabers consider her a liability in the field bothers her more than she'll let on.
Mackie Stingray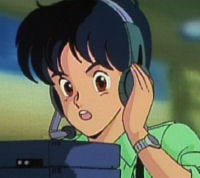 Sylia's younger brother Mackie serves as a sort of handyman for the Knight Sabers. He helps out with the gear, drives the mobile equipment bay that the team often deploys in field missions, and provides logistical support from the rear during combat operations. He's also the chief vehicle mechanic for the group. He's a quiet kid, doesn't make a lot of waves, but he's very reliable. If anybody in the group gets into trouble, they know Mackie's reassuring voice and extensive support resources are just a phone or radio call away.
Leon McNichol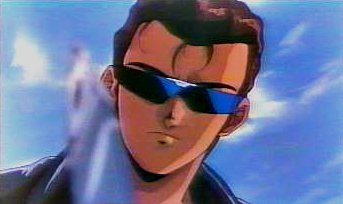 Leon is a detective sergeant with the AD Police, the youngest officer ever to be elevated to that lofty rank. He did his time in an armored uniform as one of the force's tactical grunts, surviving through a combination of quick wits, toughness, and blind luck to become a detective. His hard-charging style makes him the kind of guy who either does well in an outfit like the ADP or die trying, and so far he's avoided the dying part. He thinks he's a smooth-talking ladies' man, and maybe he is with the right kind of ladies, but he has an unfortunate tendency to be attracted to the kinds of girls his patter doesn't work on - like Priss. Unlike most ADP officers, Leon doesn't hate the Knight Sabers; if anything, he finds them intriguing.
Daley Wong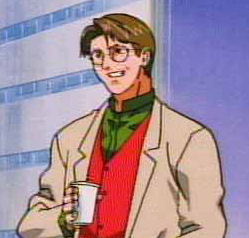 Leon's partner Daley is a quiet intellectual, which makes him a good counterweight to Leon's full-speed man-of-action persona. Daley's always looking at the angles, trying to figure out the big picture; he leaves obsessing over the details to Leon. He also usually drives the car; it tends to get wrecked less often that way. Daley and Leon have worked together for years - they came up through Uniform together - and the fact that Daley's gay and Leon's not ceased to be an issue in their friendship a long time ago - although Daley still finds it deeply amusing that he knows better than Leon how to a) keep a relationship stable and b) talk to a woman.
--G.
-><-
Benjamin D. Hutchins, Co-Founder, Editor-in-Chief, & Forum Admin
Eyrie Productions, Unlimited http://www.eyrie-productions.com/