>I was, for old times sake, reading through the Golden Age story Rite
>of Passage, and noticed that the Apharmd carried one hell of an
>autocannon. 200mm?

It's not an autocannon, it's an assault cannon. It's not meant to compare to the 'Mech that carries it like a tank's main gun compares to the tank; it's more like the mortars and demolition guns carried by e.g. the British Armoured Vehicle Royal Engineers series. The Churchill AVRE of WWII carried a 290mm petard mortar, which fired a 40-pound HE projectile so unwieldy the troops called it the Flying Dustbin. Short range, low velocity, high explosive.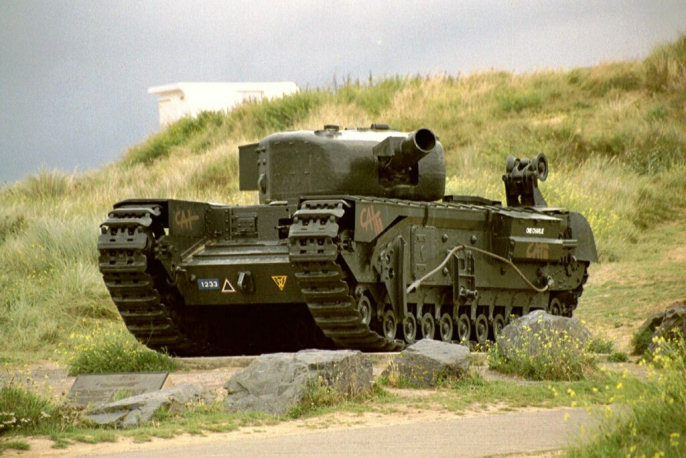 Fig. 1 Churchill AVRE.
The Apharmd's assault gun isn't really there to attack other armored vehicles with, though it can certainly be used thus in a pinch. It's officially there to knock down walls, blow up bridges, and generally reduce the usefulness of the enemy's infrastructure. The 'Mech is mainly meant for urban combat.
Or, if you'd rather have a more person-scale comparison, think of it as a man carrying a grenade launcher instead of a rifle.
--G.
-><-
Benjamin D. Hutchins, Co-Founder, Editor-in-Chief, & Forum Mod
Eyrie Productions, Unlimited http://www.eyrie-productions.com/
zgryphon at that email service Google has
Ceterum censeo Carthaginem esse delendam.