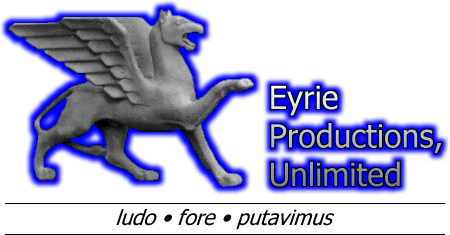 The Internet's most reasonably priced fanfiction since 1991!
"You have to do the thing you can't not do."
- Adam Savage
---
Welcome to the Eyrie Productions, Unlimited home page. Eyrie Productions was founded in 1991 to provide a common identity for the pieces of the Undocumented Features fanfiction project. Since then, the EPU catalog has expanded to include five other fanfiction universes, with several further projects in development.
If this is your first visit to EPU, you may wish to visit the About area of the site first. Here you will find information about EPU, the website itself, and the people who make it all possible. Links to the six currently-active EPU series can also be found in many convenient locations.
An RSS feed of our new releases page is available.
Also, please stop by our discussion forum, where you will find venues for discussion of all our stuff and the EPU fan community at large.
IMPORTANT NOTE: The Forum is currently experiencing technical difficulties and will most likely be in shutdown mode. However, we may have turned it back on for investigative purposes. If the PLEASE DO NOT USE THE FORUM announcement is still in place, please heed it. This note will be removed once the problem has been dealt with and the Forum is safe for democracy again.
Enjoy your virtual tour of our domain.
---
version 3.3 © 2001
Eyrie Productions, Unlimited
Benjamin D. Hutchins
E P U (Colour)
with special thanks to our very own Philip J. Moyer, longtime supporter of Eyrie Productions, staff artist and writer, original maintainer of this site, and the guy what does the funny hats for our mascot (an idea, I must confess, that I swiped from the Anime Web Turnpike's Trixie Turnpike).
Eyrie Productions, Unlimited logo by 403 Forbidden Web Design, a division of Iajomaa Enterprises.