Way back in the year 2000, when I wanted to have a big car again, I bought a 1962 Chevrolet Impala. We've seen elsewhere on the site that it didn't work out. This development left me with not just no big car, but really no car at all, since I'd sold my Neon.

I tried a couple of different things. Initially, when I was just supposed to be waiting for my father to finish painting the roof of the Impala, I had his spare car, a 1990 Oldsmobile Cutlass Calais (that was the small boxy Cutlass, not the medium-size boxy Cutlass or the big rounded Cutlass—basically all Oldsmobiles were called Cutlass something that year), which holds the interesting distinction of having been the least interesting car I ever had as a daily driver. Really, there was nothing memorable at all about the Calais. It wasn't a bad car; it just... I can't remember whose joke this is, but it was the kind of car that felt like you bought it off a roll. Like you went to the dealer and said, "Give me 15 feet of sedan in light blue."

When it became obvious that the Impala was a lost cause, I swapped the Calais for my father's other spare vehicle, a Dodge Ram Charger. I suspect the Ram Charger is largely forgotten now; it was a sort of monster-sized, primitive SUV, basically the Dodge-pickup-based equivalent of a Chevy Blazer or Ford Bronco (the big ones, not the Bronco II). I did that for one and only one reason: because Derek Bacon had one, and I remembered it as being hilariously amusing. Turns out Derek was hilariously amusing; the Ram Charger was just a bad car. At least the one I had was. It had that classic '80s Chrysler build quality, which basically meant that it was rusty and always broken. Dad normally used it for plowing his driveway and not much else, and he wasn't surprised when I returned it within a few weeks.

So at that point I was back in Maine and without a car again. I would probably have just taken the Calais back and started looking around for something locally, except that I came up to my old hometown to visit my mother before I left. At that time there were still three new car dealerships here, and two of them were right out on the main drag just as you come into town.

The first of these, which is now vacant except for an auto glass shop operating out of part of the old service department, was a Ford dealer, and sitting out front as I drove past was a used Crown Victoria. A black Crown Victoria.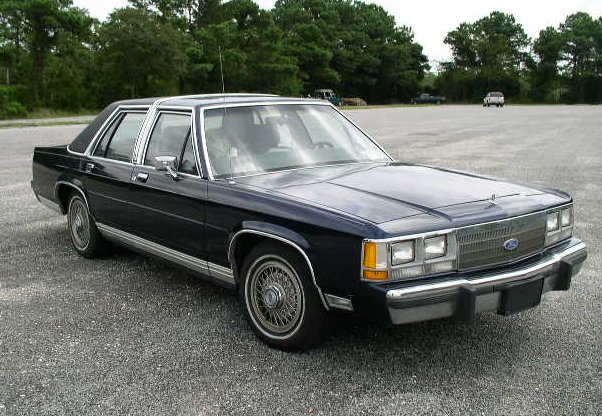 Fig. A Just like this one.
So there's me:
- Frustrated in my prior search for a Large Car;
- By sheer happenstance carrying on my person the sum of $3,500 in cash, proceeds of the sale of the Neon;
- Standing on the forecourt of the Ford dealership in my own ancient hometown;
- Looking at a 1989 Men in Black Edition* Crown Vic with a sign in the windshield saying they wanted $2,999 for it.
The thing about the Crown Vic of that era is that it could be so many things. A lot of them were cop cars and taxicabs, with bone-basic interiors and no options at all. Most of the rest were mid-range family cars, a little dressed up, but still pretty basic. If people wanted a fancier car based on that same exact platform, they would either go get a Mercury Marquis or, if they really felt like pushing the boat out, a Lincoln Town Car.
But Ford did make a fancy deluxe version of the Crown Vic, and the one I bought that day was one of those. It was the best-equipped car I'd had since the Toronado, with an incongruously maroon leather interior and every option they offered that year. More amazingly, it was a 1989 Ford in the year 2000 and all of those things still worked. Its only shortcoming, and what had kept it from selling for long enough that they'd dropped the price that far, was that it had something like 150,000 miles on it.
On the other hand, whoever bought it would be the second owner, and I knew a) who the first owner was and b) that in her hands, they were unlikely to have been particularly hard miles, as they would be on, say, a cop car of similar age. So I went in there and bought it. On the spot. Unpremeditated.
I haven't had a lot of wide-open "'what the fuck' makes your future" moments in my life, but I can check "buy a car, with cash, totally on impulse" off the list, and I think that counts.
Dad thought I'd lost my mind, of course. Why would you pay money for an 11-year-old car—an 11-year-old Ford—when you have a free indefinite loan of a smaller, more economical car that's a whole year newer?
Well... for a lot of reasons, or none at all, depending on how you look at it. But I did it, and I only regretted it once. We'll get to that in a second.
The most fun part of having that car was that at the time, I lived in Waltham, Massachusetts, and worked for a hosting company based out of a warehouse off Sullivan Square in Somerville. My house and the office were only about 10 miles apart, but they were 10 miles that went straight through Harvard Square in Cambridge, so my commute generally took between 45 minutes and an hour, and commonly involved some fairly hair-raising traffic.
Now, you might think that driving a land yacht like a Crown Vic in a situation like that would just make it even worse, but I found that generally speaking, when I arrived at an intersection or a merge or the like in that car, people... mysteriously found room for me. Even hyper-aggressive marketing people in Audis did not choose to joust with a man driving a 1989 Crown Victoria at the turn of the twenty-first century. What had been a harrowing ordeal in the Neon became... easy. Even a bit relaxing. I particularly looked forward to the drive home in the evening.
Probably the oddest of the Crown Vic's many features was that it had a towing package. Seriously, a factory towing package, with a hitch at the back and everything. You know how in the '60s, all Matchbox cars had a tow hitch molded into them, regardless of whether the model was a Ford Zodiac sedan or a Ferrari GTO? It was a little like that. One day, while I was waiting at a traffic light, a man riding as a passenger in the lane next to me rolled his window down and offered me $200 for it, and I probably would have sold it, but it wasn't detachable. When I told him that, he said in that case he'd give me $2500 for the whole car, but the light changed and I never found out if he was serious.
Like I said before, I only regretted buying that car once. That was on the Christmas after I bought it. I was driving north on the afternoon of the 24th, to spend the holidays with the folks, when the car started to die. In my experience, when modern cars break down, they just suddenly stop working all at once, as some computerized component or another gives up the magic smoke and dies. Older machinery like the Crown Vic (which, though made in 1989, was based on a largely unchanged platform that dated back to the '70s at least) tends to linger. Power falls off, cylinders misfire, the electronics start behaving strangely, maybe the transmission gets confused... the process takes long enough that you have time to pass through the five stages of grief while it's happening.
I think I had reached Bargaining by the time I coaxed the dying Ford into the parking lot of a hotel in Freeport, and just in the nick of time; let's just say I wouldn't have been able to correct my parking job if I hadn't done it right the first time, and leave it at that. It expired as I put it in Park, and responded to no provocation thereafter; the electrical system had gone completely dark. Even the dome light didn't come on when I opened the door.
At a loss, I called my mother to let her know I'd run into a bit of a problem. I was a hundred miles from home and 200 from my destination, and night was falling; I thought I might have to stay the night at the hotel I'd just been beached at, but she has a brother who lives in Portland (which I had just passed), and his wife worked at one of the car rental places at the airport there. So Mom called them to see if she could get a rental car sent up to rescue me.
Meanwhile, I went into the hotel to ask if they minded if I left the car there for a day or two. I assumed they would say no and I'd have to have it towed somewhere, probably to the Ford garage in Freeport, where they wouldn't be able to look at it until who knew when because it was Christmas; but the guy said sure, it's pretty slow here this time of year, as long as it's gone by New Year's we're cool. So that was nice.
A little while later my uncle drove up in his own car; they hadn't been able to arrange a rental for reasons I cannot now remember (maybe the holiday again), so instead, he and Mom had worked out a thing where he'd take me up the Interstate and she'd come down and meet us halfway, at a little town called Newport. We'd all have dinner at the Pizza Hut there and then go our separate ways.
It was kind of surreal. Mom's brother was my favorite uncle when I was a kid; he lived up in Aroostook County then, and we used to hang out a lot whenever I was up there. He moved to Portland when I was in middle school, got married and unexpectedly started a family a bit late in life, and we'd seen each other maybe twice in the... oh... 12 or so years since then. The trip wasn't awkward at all, but it was an odd reason for a reunion, and then when we got to Newport it was raining cats and dogs and the power was out. Strange scene in the parking lot of the shut-down 24-hour Irving station, transferring luggage in the dark and the pouring rain. Sort of put the kibosh on the "dinner" part of the plan.
The day after Christmas, Dad and I drove back down to Freeport to see what was wrong with the car. Dad had a spare car battery with him, as you do, and when we put it in, the Crown Vic fired right up like nothing was wrong with it. From this we concluded that the alternator had failed, so we took up a mile or so up the road to an auto parts place we'd noticed on the way in from the Interstate.
Now, there are two things about replacing the alternator in a car. One is that you get reamed on the price of the new one unless you have an old one to trade for it. And the other is that, even in a big old car with as much free space as a Crown Vic has in its engine compartment, it takes a while.
I wish I had been able to get a picture of us at work, but I wasn't, because cell phones didn't have cameras in them back then. It's a shame. There would be distinct comedy value in a photo of my father, bundled up in his old work coat, removing the alternator from my old Crown Vic in a snowy parking lot, directly under the sign on the side of the parts store reading
FOR LIABILITY REASONS
DO NOT WORK ON CARS
IN THIS PARKING AREA
I'm sure the guy working in the store knew exactly what was up when we walked in, all cold and red-faced, with a dead Ford alternator to trade it in for a fresh one, but I guess he was feeling some of the holiday spirit too, because he never said a word about it.
Well, OK, I said I regretted buying the car once, but on balance, maybe the ensuing adventure canceled out the angst of the initial failure. :)
Apart from that, I had a lovely time with the old heap, though by the middle of the next year it was getting decidedly creaky. Around that time, Dad mentioned that he knew someone who wanted to buy it as a Project Car, and I got a "sorry we moved your job to Seattle" payout from the company that bought the place where I worked at around the same time, so I decided to sell out and use the money as a down payment on a newer vehicle. I can't remember if I made a profit on it, probably not, but what the hell.
Strangely, although I never gave this car a name, I did later base a Transformers OC on it.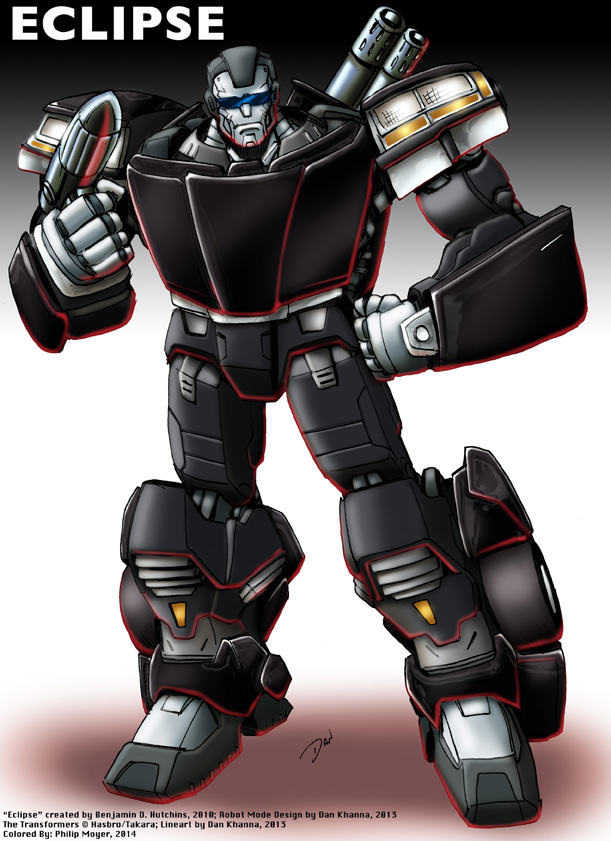 --G.
* not really, but, I mean...
-><-
Benjamin D. Hutchins, Co-Founder, Editor-in-Chief, & Forum Mod
Eyrie Productions, Unlimited http://www.eyrie-productions.com/
zgryphon at that email service Google has
Ceterum censeo Carthaginem esse delendam.