So here's a frustrating thing that happens. I was making some pretty good progress on TIA 4 right before the medical adventure of the summer of 2012, and since then, nada. Partly that's because I've had other things going on, of course, but still, it's annoying.

That's not the thing you didn't know. I'm reasonably sure you did know that, or at least the operative part of it. The thing you didn't know is that StarkWire One, Mr. Stark's private jet, already had a long, colorful, rather strange career before he ever got hold of it.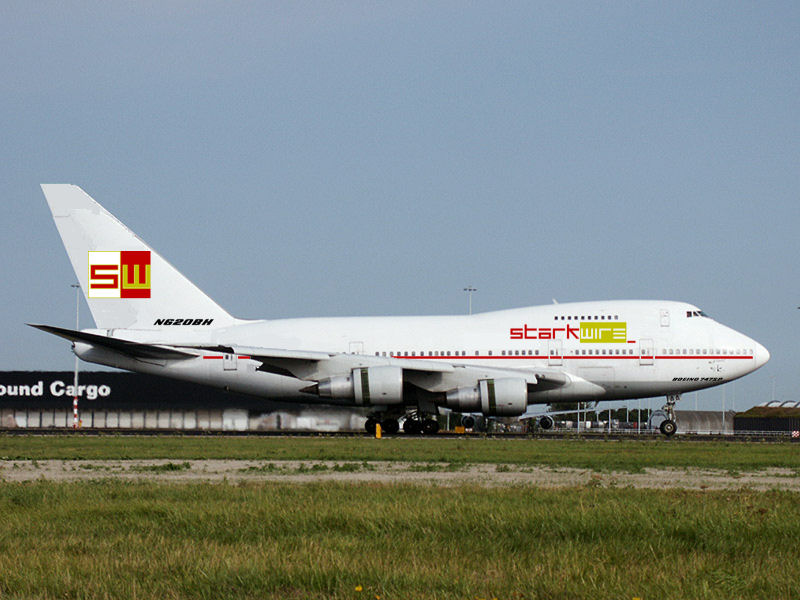 Fig. 1 StarkWire One
As he notes in the StarkWire post unveiling it, Stark bought the airframe from the great aviation boneyard at Mojave Spaceport in California. It had been there for quite some time by then - more than 20 years - and required extensive refurbishing to put it back into operation, but since major modifications were required anyway, that wasn't an obstacle; any aircraft acquired for the job would've needed a similar amount of work.
Before then, its first life was... quite interesting. You see, the airframe in question is in fact the third-from-the-last Boeing 747SP ever built, serial number 22805, which first flew on June 10, 1982. As StarkWire One, it bears the US N-number "N620BH" for sentimental reasons,1 but its original registration number was N4522V.2 Before washing up on the shores of Mojave, it spent many years languishing at the international airport in Tijuana, having been stripped of its FAA operating certificate and sidelined in 2005 for lack of proper maintenance by its owners - an evangelical Christian... somethingorother... with the ambitious name "Global Peace Ambassadors". This interesting3 organization had acquired the aircraft in 2002, apparently having underestimated somewhat the cost of caring for and feeding a Boeing 747.
Before that, N4522V had a stint in storage at McCarran Field in Las Vegas,4 and before that, it flew for 15 years under lease to China Airlines, the flag carrier of the Republic of China.5 In 1985 it had quite an adventure! This may be one of the reasons why Mr. Stark was drawn to it. After all, they've both had colorful careers and now sport a few replacement parts, and they've both had fairly bad days in the company of people from Taiwan.
(Chronologically, everything I've just said about the airplane is true up to the present day; only its "future history", in the 17 years between now and TIA, is fictional. Right now, as far as the Internet's planespotters know, N4522V is still in Tijuana, still evidently owned by "Global Peace Ambassadors", still considered unairworthy by the FAA, but still theoretically in more-or-less-working order.)
--G.
-><-
Benjamin D. Hutchins, Co-Founder, Editor-in-Chief, & Forum Mod
Eyrie Productions, Unlimited http://www.eyrie-productions.com/
zgryphon at that email service Google has
Ceterum censeo Carthaginem esse delendam.
---

1 It's the number that was on a toy airplane Stark's pilot uncle gave him when he was a kid.
2 Which is admittedly a cooler-sounding radio callsign - "two-two Victor" beats "zero Bravo Hotel" any day.
3 Far be it from me to call any establishment of religion with such laudable goals as world peace "shady", but the guy in charge did accept charitable contributions to buy a used 747 with which to carry out his solo unsanctioned globetrotting peace initiatives. I'm just saying, even most American megachurch pastors would've been content with a GulfStream.
4 Fallout: New Vegas players will recognize this location.
5 I.e., Taiwan, or as the International Olympic Committee cravenly calls it to avoid angering Red China, "Chinese Taipei". I'm surprised the cowardly pricks don't just call it "Formosa" and be done with it. Sorry, bit political there, I do apologize.