LAST EDITED ON Jul-25-11 AT 10:10 PM (EDT)

>I like it.
>
>So much so I feel I have to match your cleverness with my own --
>though I won't be so arrogant as to post pictures and whatnot, just a
>pair of links: St Trinians Girl and
>her story.

Hee.

Norma Dinsdale also attended a school called St. Trinian's (she has presumably graduated by now), but a) it was in Galaxy City, b) it wasn't only for girls, and c) it was nowhere near as rough as that one. In fact, it was just an ordinary Catholic high school.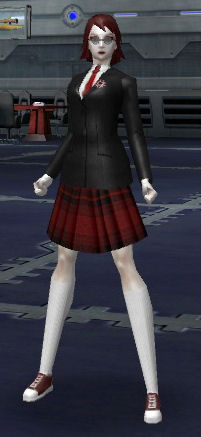 So you can imagine the Monsignor was delighted when one of his tenth-graders became the living avatar of a pre-Aztec god of poisoned thorns and bloody vengeance. :)
--G.
"My teen angst burns your flesh!"
-><-
Benjamin D. Hutchins, Co-Founder, Editor-in-Chief, & Forum Admin
Eyrie Productions, Unlimited http://www.eyrie-productions.com/
Ceterum censeo Carthaginem esse delendam.