Onix does evolve! It's just that Steelix was introduced in Gen 2 (which contained no penguins, alas) and as such there isn't one in Let's Go bc it's based almost entirely on the first gen. Same story with Scizor and a couple other mons.

Also, Doomkoi does that because it's based on an old legend that if a carp swims up the Yellow River and lives for a thousand years it turns into a dragon! Or something like that, I can't remember the exact mythology it's cribbing from. Gyarados and Charizard are excellent Pokémon and very obviously dragons, but they have Flying as a secondary typing (barring certain occasions for Charizard) because they wanted to keep the Dragon typing very rare and only brought out for special occasions. This occasion is the Dratini line, in which a cute blue snake evolves into a bigger, prettier blue snake, which then itself evolves into a very round orange dragon that looks like its sole burning desire is to give great hugs and be a good pal.

look at him. he is shaped like a friend.
Also, Zigzagoon was Gen 3's Regional Obligatory Small Squeaky Thing, based on a raccoon. He is here!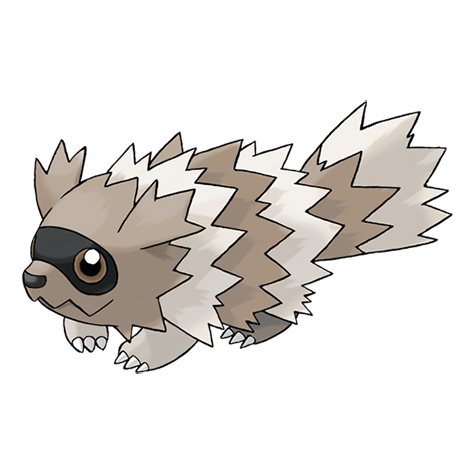 there he is! a good boy!
I hope this was helpful and brought you some small amount of joy. =]
---
"She's old, she's lame, she's barren too, // "She's not worth feed or hay, // "But I'll give her this," - he blew smoke at me - // "She was something in her day." -- Garnet Rogers, Small Victory
FiMFiction.net: we might accept blatant porn involving the cast of My Little Pony but as God is my witness we have standards.